&nbsp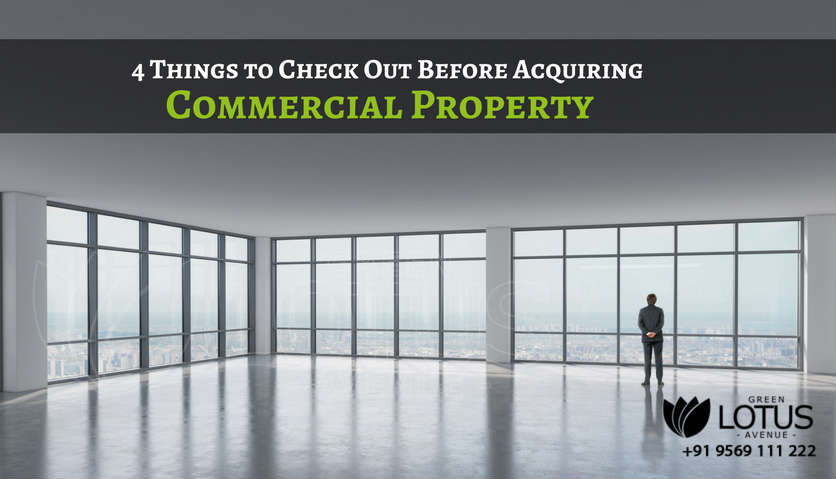 4 Things to Check Out Before Acquiring Your Commercial Property
Zirakpur has become a city of property lovers. And most of us have bought a house or rented a property, and know what that experience involves. But, commercial property in Zirakpur is entirely different and a little more mysterious. It is an increasingly valid option for buyers in the Tricity region. So, if you're also thinking to invest in commercial property, you must consider the array of potential risks before acquiring commercial property. It is essential to undertake the technical due diligence when you survey the respective building or space you're going to acquire.
Check the Services Of Commercial Property
Make sure the workspace or building you're going to acquire is completely functional, efficient, comfortable and safe with installed systems like lifts, power, Intercom facility and fire alarms. This kind of systems needs regular checks and the buyer should expect to see the latest test and safety reports. A specialist input from mechanical, electrical and plumbing engineer may be required to get the full knowledge of the systems present in the building, their life span, condition and maintenance obligations.
Ensure It is Easily Accessible
Developers or designers have a duty to ensure the building or the built environment is easily accessible and convenient for everyone. Green Lotus Avenue by Barnala Developers has removed the hassle that's is consumed in commuting from your home to office. They've provided commercial spaces located just next to their residential flat. So that you get a quality lifestyle by having your home and office so nearby. This doesn't only increases your productivity at work but gives you the opportunity to spend more time with your family while living in peace, luxury and security.
Maintenance of Building's Envelope
It's the outer area of the building, which consists of elevations, glazing and roof with the associated seals, flashing, etc. These elements provide an insulated waterproof guard to the property. Although, there are many other things such as aesthetics, fire protection and accessibility that can affect the elements chosen. Inappropriate maintenance of building's envelope can lead to problems such as water ingress, rot and corrosion. So these requirements should be understood at any early stage.
Understand the Foundations & Structure
If the design of ground conditions and various forces acting on a building are not adequately built, it can lead to great problems in different mechanisms. It can even cause complete failure of the building. Older buildings mostly have limited foundations while modern buildings are usually built on challenging strata such as underground drainage system, earthquake resistant structure, flood plains, etc.
Whether you're in retail or corporate business, Green Lotus Avenue has commercial property in Zirakpur that doesn't only sets the high standards of aesthetic interiors but entails all the modern amenities and infrastructure required to operate a successful business.
For any queries, please contact us on 9569111222 or you can also drop us a mail at sales@greenlotusavenue.com