ABOUT

Green residential project in zirakpur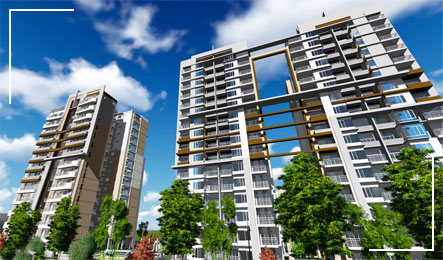 The meaning of life is amplified with happiness, tranquility and well-being when you live a quality lifestyle. Living in a city and at the same time having the luxury of having a palatial home with rich and eclat interiors and contemporary architecture surrounded by beautiful landscapes, stunning views and fresh air can seem to be too much to ask for. Everyone wishes to relax and unwind in a beautiful and cozy home after a long and stressful day at work, having all facilities at hand to make his or her evening as smooth and pleasant as possible.
Green Lotus Avenue brings to you tricity's first ever green residential project in Zirakpur located in the fastest developing area of tricity. Situated on the outskirts of Chandigarh, this green residential project in Zirakpur has been built on the pillars of quality, comfort, security and luxury.
Our plush residentials have huge glass panel windows, supreme quality fixtures and fittings, modular kitchen, spacious rooms and opulent interiors. The highlight of Green Lotus Avenue is that it is a green project i.e. it utilizes natural resources wherever possible in its construction and maintenance and promotes a sustainable lifestyle. This green residential project in Zirakpur uses solar energy for electricity, rain water harvesting technique, eco- friendly building material and has done efficient use of landscape by planting a lot of trees. Green Lotus Avenue brings an end to your search for the perfect home!
PROJECT

HIGHLIGHTS
PROJECT

FEATURES
AMENITIES & FACILITIES AS NEVER BEFORE
CLUBHOUSE FACILITIES AS NEVER BEFORE
GREEN HIGHLIGHTS Of Green Residential Project in Zirakpur
BEDROOMS &
LIVING ROOM
External Window/Glazing
door
FlooringOther
Walls
UPVC/hardwood/CFFS PVC
Hard wood flush doors with polish/paint/laminate
Vitrified Tiles in bedrooms, Vitrified Tiles in living room
Wooded cupboard in all bedrooms
OBD
MODULAR-KITCHEN
Walls
Flooring
Kitchen Slab
External Window & Gazing Walls
Glazed tiles up to 2 fts. from slabs level
Vitrified Tiles
Granite
UPVC/Hardwood/CFFS PVC
OBD
BATHROOMS
Walls
Flooring
Doors
External Window & Gazing
Fitting
Glazed tiles up to door height and OBD
Anti skid tiles
Hard wood flush doors with polish/paint/laminate
UPVC/hardwood/CFFS PVC
Branded Chinaware & CP fittings
STAIRCASE/COMMON CORRIDORS
Walls
Flooring
Others
OBD
Baroda green/marble
MS railing
BALCONIES
Flooring
Others
Anti Skid Tiles
MS Railing
POWER BACKUP
Paid Power Backup
Upto 5 KVA
ELECTRICAL WORK
Electrical Work
Modular switches, cable, internet, TV and telephone points
FINISHING
Internal Finish
External Finish
Oil bound distemper with acrylic/cement based putty on walls
oil bound distemper and POP/putty in all room ceillings
Exterior emulsion weather proof paint
PLUMBING WORK
Plumbing work
SWR, PPR, PVC & UPVC pipes of reputed make
AMENITIES & FACILITIES AS NEVER BEFORE

CLUBHOUSE FACILITIES AS NEVER BEFORE

GREEN HIGHLIGHTS Of Green Residential Project in Zirakpur

BEDROOMS &
LIVING ROOM
External Window/Glazing
door
FlooringOther
Walls
UPVC/hardwood/CFFS PVC
Hard wood flush doors with polish/paint/laminate
Vitrified Tiles in bedrooms, Vitrified Tiles in living room
Wooded cupboard in all bedrooms
OBD
MODULAR-KITCHEN
Walls
Flooring
Kitchen Slab
External Window & Gazing Walls
Glazed tiles up to 2 fts. from slabs level
Vitrified Tiles
Granite
UPVC/Hardwood/CFFS PVC
OBD
BATHROOMS
Walls
Flooring
Doors
External Window & Gazing
Fitting
Glazed tiles up to door height and OBD
Anti skid tiles
Hard wood flush doors with polish/paint/laminate
UPVC/hardwood/CFFS PVC
Branded Chinaware & CP fittings
STAIRCASE/COMMON CORRIDORS
Walls
Flooring
Others
OBD
Baroda green/marble
MS railing
BALCONIES
Flooring
Others
Anti Skid Tiles
MS Railing
POWER BACKUP
Paid Power Backup
Upto 5 KVA
ELECTRICAL WORK
Electrical Work
Modular switches, cable, internet, TV and telephone points
FINISHING
Internal Finish
External Finish
Oil bound distemper with acrylic/cement based putty on walls
oil bound distemper and POP/putty in all room ceillings
Exterior emulsion weather proof paint
PLUMBING WORK
Plumbing work
SWR, PPR, PVC & UPVC pipes of reputed make