Indian Green Building Council Certified Green Lotus Avenue
Green Lotus Avenue has achieved pre-certification under the IGBC Green Homes Rating Documentation has been submitted for this project, which demonstrates an intent to design and build a high performance residential building in accordance with IGBC Green Homes criteria.
The Indian Green Building Council (IGBC), part of the Confederation of Indian Industry (CII) was formed in the year 2001. The council is committee-based, member-driven and consensus-focused. The IGBC rating systems are voluntary, consensus based, market-driven programmes.
Green Lotus Avenue applied for Indian Green Building Council Certification. And Now It's certified.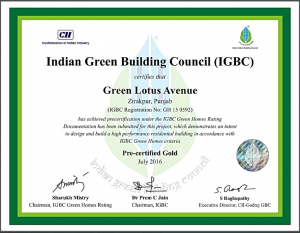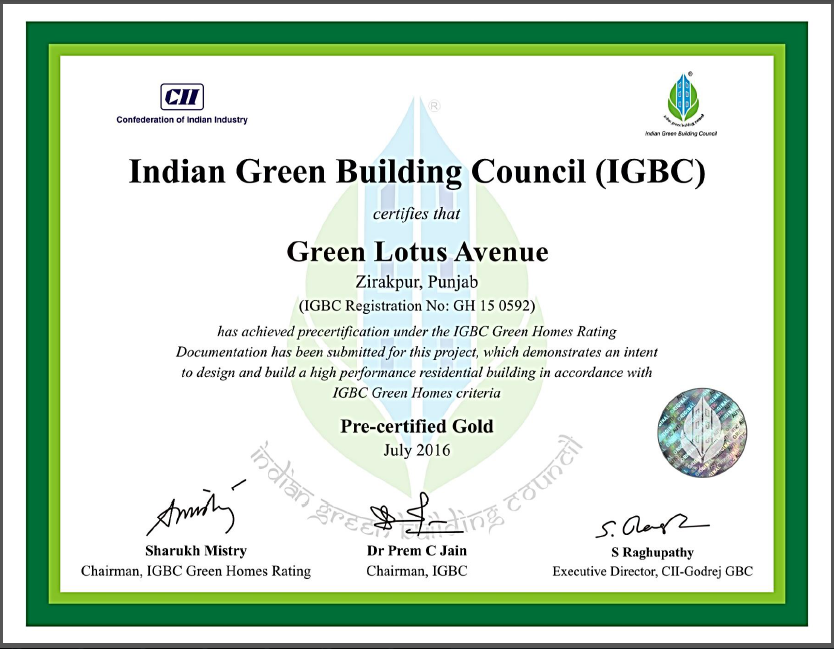 Benefits of IGBC:-
Buying an apartment which is IGBC certified such as Green Lotus Avenue can have tremendous benefits, both tangible and intangible. The most tangible benefits which can be seen from day one of your occupancy is reduction in your monthly water and energy consumption. The water savings can start from 30% and go up as high as 50%. Same is the case with electricity consumption where you will see energy bill savings in the range of 20 – 30 % every month.  The intangible benefits of green new buildings include enhanced air quality, health & well-being of the occupants, excellent daylight inside the house, safety benefits and conservation of scarce natural resources.
IGBC Green New Buildings rating system addresses green features under the following categories:
– Site Selection and Planning
– Water Conservation
– Sustainable Architecture and Design
– Building Materials and Resources
– Increased Energy Efficiency
– Innovation and Development
– Increased healthy indoor Environmental Quality
Green Lotus Avenue offers various layouts of apartments and penthouses in zirakpur. These luxury apartments include 2 bhk flats, 3 bhk flats, 4 bhk flats, 5 bhk flats and penthouses in zirakpur.