&nbsp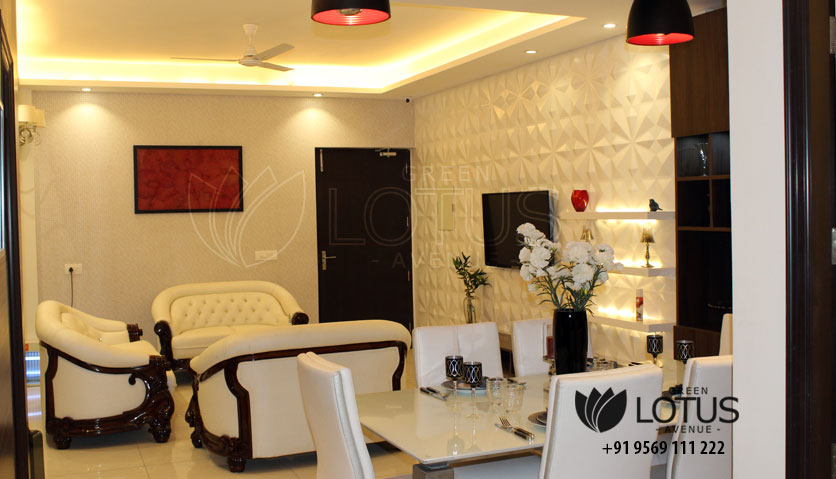 Dwell in Luxury and Space at 4 BHK Penthouses in Zirakpur
Looking for a perfect home where you can live conveniently with your family? Then look no further, 4 BHK penthouse in Zirakpur by Green Lotus Avenue is an ideal fit that makes for a perfect home. Located on Ambala-Chandigarh Expressway, these luxury penthouses boast stunning panoramic views of city's beautiful skyline. Well, the list of unrivaled facilities provided by these penthouses is endless.  So to make you more familiar with Green Lotus Avenue penthouses, we've only penned down some of the unique features that you might not have envisaged anywhere.
Highly Spacious 4 BHK Penthouse in Zirakpur
Spread over 2560 sq. ft. of space with 2 walk outs to 2 balconies and high ceilings with floor to ceiling windows, hardwood flush floors, these penthouses are built on the concept of the bright and spacious layout. With 4 fully furnished spacious bedrooms of approx 12 by 16 ft, you can enjoy a high standard of living whilst inviting your guests and relaxing with your family. Each bedroom is attached with 6 by 6 ft dressing room an attached 8×6 feet bathroom. Two balconies measuring 26X6 feet and 14X4  feet ensure you have enough space while admiring the scenic beauty from your balcony. This penthouse comes with 4 bedrooms, 5 baths, modular kitchen, dressing area, utility rooms, foyer, modular kitchen, huge terrace etc.
Massive Terrace Area To Entertain
The terrace area is perfect 2560 sq. ft. of the space to entertain your guests or loved ones. With such a large terrace, you can also host parties under the stars. One separate bathroom is also present on the terrace. The open terrace area has the adjoining pool with chairs and benches to relax and have a pleasant time. The amazing view of highway and city highlights makes it an ultimate destination where you can enjoy at all occasions.
Puja & Utility Rooms
Each 4 BHK penthouse offers a spiritual corner or 4 by 6 feet large puja room. To make sure you don't have to find a divine place to sit every morning and evening for your prayers. These puja rooms are magnificently crafted to bring glory and peace to your home, especially on special occasions and festivals. Adjacent to puja room, there are two utility rooms with each measuring 4.0 by 8.7 and 6.0X3.6 feet respectively. From space saver to storage solution and scullery chic scheme,  these are not just utility rooms but perfect beautility rooms. These rooms include laundry, tumble dryer and cleaning kit to keep your open plan living spaces tidy and clutter free. It is a practical yet stylish space that you'll require as a standard.
Green Highlights
The design of these flats is aesthetically mesmerizing and promising as well. Certified by Indian Green Building Council, Green Lotus Avenue provides major green highlights such as rainwater harvesting, water efficient fixtures, soil conservation, better indoor air quality, energy efficiency and sustainable construction etc.
This 4 BHK penthouse in Zirakpur emphasizes some of the most unusual characteristics that can only be found in a luxury suite. Covered parking, separate lift for each block, modular kitchen with chimney are only a few of its basic amenities.  To put simply, a penthouse is a synonymous with fabulous life, breathtaking views, extraordinary features, and enough space for the finest parties. Here you'll experience a lifestyle like no other.
Green Lotus Avenue is one of the best projects to invest for 4 BHK penthouse in Zirakpur. It is the region's first green residential project which is fully furnished, spacious and affordable.
To know more, you can contact us at +91 9569111222.