&nbsp

Significance of Lohri, the Festival of Joy and Prosperity
A festival celebrated with immense joy, songs, and dance, Lohri, is a warm commemoration of gratitude and hope. Celebrated enthusiastically in Northern India, mainly in the region of Punjab. Every year, on the 13th of January, just a day prior to Makar Sankranti, people celebrate this festival in their homes with their loved ones.
ONSET OF HARVESTING
Lohri signifies that time of the year when the farmer's field is glistening like gold because of the wheat crop that had been planted at the onset of winters and is now in full bloom. The winter crop, rabi, is ready for being harvested as well.
BONFIRE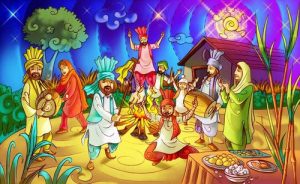 A bonfire is the key characteristic of the festival of Lohri. Every family lights up a fire in their home's compound and sits around it. The fire denotes God and people pray, make offerings and then celebrate with song and dance around that fire.
THANKSGIVING
People, during this time of the season, pay thanks to the Gods for the various blessings of life such as a good yield of crops at the farms and good food. They give thanks by making a bonfire and circling around it and, also, offering them different items of food such as peanuts, popcorns, gachak (jaggery and peanut bars) and revri (jaggery and sesame bars).
SONG AND DANCE
Families get together, lit a fire inside their home's compound, sit around it, give thanks to it and then sing folk songs and dance to them around the fire. Lohri is an excellent excuse for the families to come together and create new memories.
CELEBRATIONS
Lohri is a pious festival and is considered to be auspicious for major events in a family such as the birth of a child, someone's marriage, etc. The first Lohri of a newly born child or the first Lohri of a newly wedded couple is always celebrated as a big function in the family with all the near and dear ones.
FEAST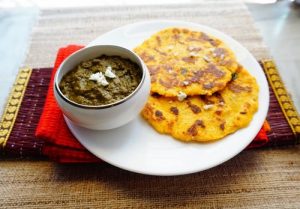 Festive food is an essential part of the Lohri festival. Snacks like popcorns, peanuts, gachak, revri, etc are consumed after being offered to the Gods by way of offering it to the fire. The customary Punjabi meal Sarson ka saag (a dish made with mustard leaves) with Makki ki roti (flatbreads made from corn meal) is prepared in a large quantity.