&nbsp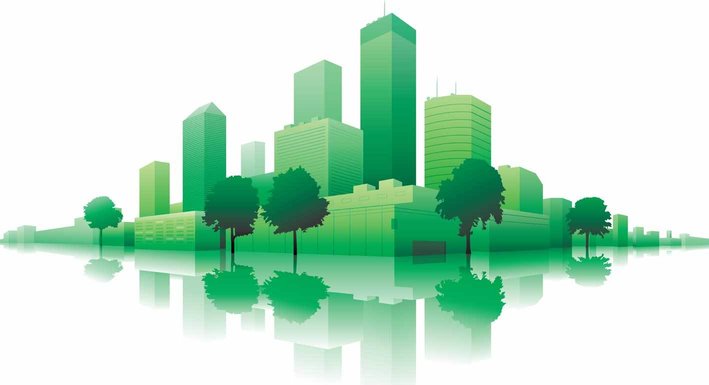 The Importance of Leed Certification
In order to authenticate the sustainability of a building, a regulatory body has been created by the name of USGBC or United States Green Building Council. USGBC construed that the realty sector was in dire need of regulations in order to classify a building as a green building due to its consequences on its trade and development. Hence, it conceived LEED certification or Leadership in Energy and Environmental Design which is a certification program to attest buildings that meet its requirements and standards. LEED certification ensures that a building is environment-friendly and promotes sustainable living. LEED certification globally certifies new buildings as well as old and they can be of any type whether office spaces, residential, commercial, retail stores, warehouses, health facilities, communities, etc. Under LEED certification, all phases of development are covered right from construction and development to operations, maintenance, and retrofit.
LEED certification has a point scoring system and designates various levels or grades for sustainability which are Certified, Silver, Gold and Platinum depending on its score. It determines the level of sustainability based on metrics such as:
WATER EFFICIENCY
A green building is required to meet all parameters for efficient water management. It includes adopting methods such as rainwater harvesting to store rain water and using advanced plumbing systems that reduce the outflow of water and, hence, reduce wastage.
ENERGY EFFICIENCY
Sustainable living is a lifestyle choice that is considerate towards the earth's environment. Renewable resources such as solar energy, wind energy, water energy and/or geothermal energy, etc. are extensively used to power the buildings instead of conventional methods.
CO2 EMISSIONS REDUCTIONS
Reducing carbon footprint on the environment is a prime concern and is a component of sustainable development. Attempts are made in every way possible to do so by using environment-friendly building material, efficiently disposing off garbage, etc.
INDOOR ENVIRONMENTAL QUALITY
Indoor environmental quality is a building's internal environment that affects its occupant's health. Several factors such as dampness, dust, poor ventilation, harmful emissions, chemicals etc. play a role in deteriorating an individual's health. Sustainable living practices incorporate maintaining clean and fresh air inside a building.
By certifying a green building, LEED certification renders to its credibility in the market. Certified green buildings build faith in the minds of the buyers and investors.
PROVEN PERFORMANCE
LEED certification is an exemplary standard for encouraging sustainable living. It improves the quality of air inside the building as well as in its surroundings, reduces carbon footprint, diminishes dependence on nonrenewable resources, helps us conserve water, etc. It redefines our lifestyle for the amelioration of our health and environment.
CONTINUOUS IMPROVEMENT
We are experiencing an era of cutting-edge technology being implemented in methods promoting sustainable living. Such advancement is facilitating rapid growth of and higher demand for green buildings.
LIFETIME OF RETURNS
LEED certification is a profitable investment in the long run. It prunes the operational costs or overheads of the buildings; electricity bills and water bills go down; depending upon the area that you live in, you may be eligible for certain relaxations from the government, etc.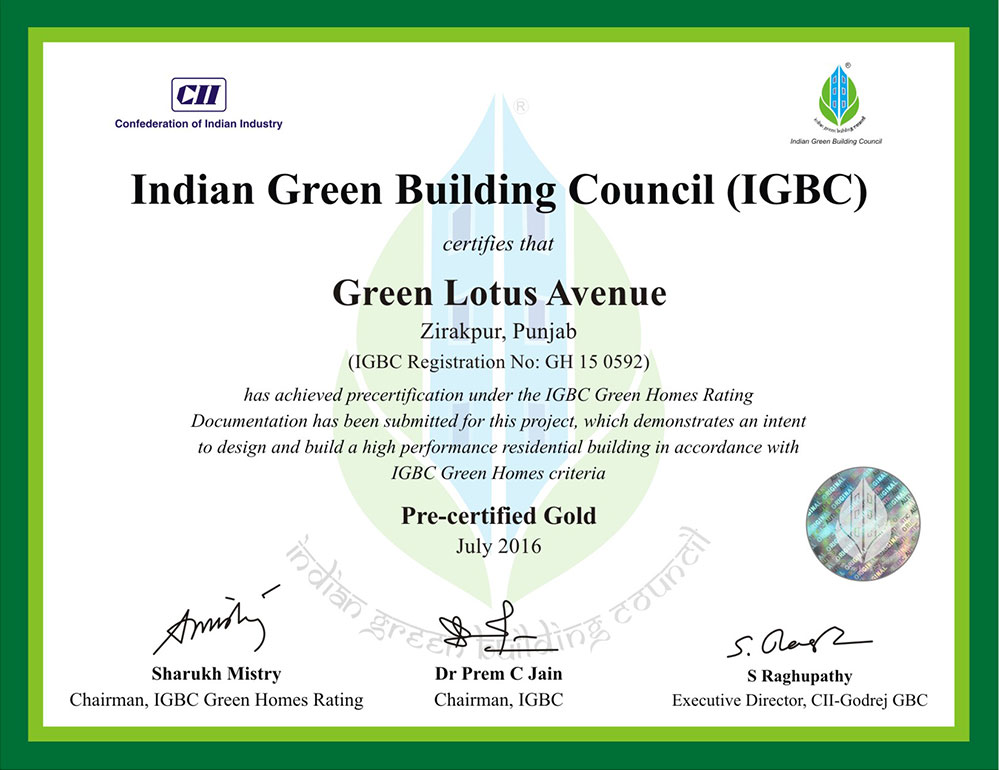 Green Lotus Avenue is also certified by Indian Green Building Council Certification. Visit Green Lotus Avenue, tricity's first certified green residential project. These apartments in Zirakpur make the ideal homes for your loved ones. Apart from creating a healthy and safe environment, these flats and penthouses come with luxurious interiors, numerous club facilities and many more features providing you and your loved ones the perfect home.