&nbsp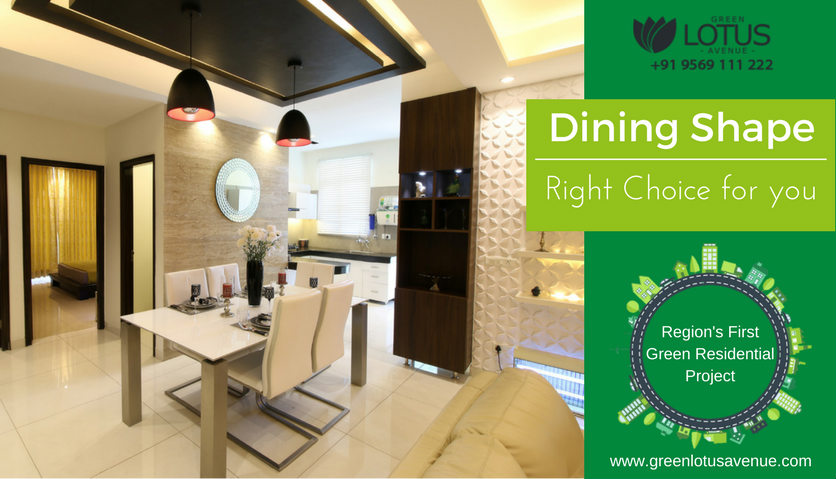 Which Dining Shape is the Right Choice for you?
Where do you spend warm moments of togetherness with your family? Which room lets you enjoy your food the most? Any guesses? Yes, it's the dining room, also known as the heart of a home because it's more than just a place of food. It's where we make lots of memories, have a laughter and fun of talking. So, it becomes highly necessary to choose a dining table that goes well with your personality as well as the available space. Certain dining shapes are better suited for certain conditions.
Also read:Master room makeover effortlessly
Basically, the dining table comes in four shapes, which are discussed as follows:
Square: Symmetry and Balance
The dining table in this shape has four straight lines, thus providing the feeling of symmetry and balance to your room. A square shaped dining table is an ideal option for small spaces and families at most four members. The square table gives flexibility in the way that you have the freedom of putting two square tables together that looks similar. Thereby, you get a larger one to have that seating arrangement for special occasions. This square table looks well in square shaped rooms. If during most of the meals, there are only two to three people present, a larger table can make a space look cold.
Rectangular: Classic and Common
Rectangular shaped dining tables are the most common and classic type of dining tables that are commonly used in our homes. Well-defined angles and straight lines not only offer a sense of formality, but stability as well. The benefit of this shape is associated with its ability to seat a large number of people. Moreover, it fits easily into every space. The dimensions of this table should fall in between 36'' to 42''. Being large in size, it has enough space to neatly place your serving dishes. And this is what makes the rectangular dining tables apt for Indian fat families.
Round: Intimate and Cozier Dining Shapes
Be it a small or large room, the round shaped table is the one that can fit in any kind of room. It is also another best option for small gatherings. As everyone can see everyone else, interactions are easier to carry on, thus setting an intimate and cozy feeling. It has neither edges nor corners which means any number of people can sit around it. But, this shape is not the right choice for large gatherings because a large table means, while everyone seated can see one another, still they seem too distant and you may have to shout across the table to be heard.
So, if you choose a round table over a rectangular one, consider buying a round table that has an extension leaf. This will help you use your round table mostly, but extend it when you have company over. Round shape signifies the completeness that goes well with anytime.
Oval: Rectangular and Round Dining Shapes
Oval is the perfect blend of both the round and rectangular shaped tables. It has all the attributes of round and rectangular dining table. But, the dissimilarity is rounded corners that seem to occupy less space than the rectangular ones. It can be easily adjusted in a narrow or small room while effortlessly accommodating even your last minute guests as it has no edges. If you're confused between the round and rectangular, oval dining tables can be just the right option for you.
Things to Consider
Now that, we've discussed the various dining shapes, you should know about the style, size and material that suits the mood and the environment you want to create in your dining room. If we talk about the material of dining table, there are different types of glass, wood, marble and the list is endless. You also need to decide on the color and finish. There are different types of dining table styles, including round pedestal, rustic modern, trestle, etc. Dining tables are usually 30" high, but still it is very important to check the size of the table as some tables may be low in height. A right-sized table with right-sized chairs makes eating a meal at the table very comfortable. In brief, make sure to look around and see what's out before you make any decision.
Also read: Best design ideas that will transform your home
Green Lotus Avenue, a green residential project by Barnala developers in Zirakpur is a pure elegance of luxury and comfort. With friendly neighborhood, state of the art amenities, green highlights and sustainable construction, it consists of flats in Zirakpur that gives you the feeling of a proud homeownership. Top class social infrastructure, modernity and aesthetic appeal of this project makes it an appropriate choice for you.
For more information, you may contact us on 9569111222