&nbsp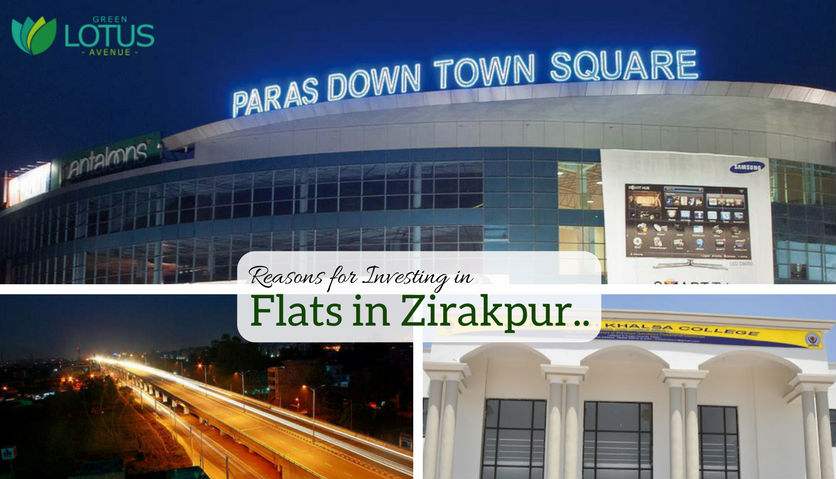 8 Good Reasons for Investing in Flats in Zirakpur
During the last few years, Zirakpur has emerged as the first option for homeowners who are looking to invest their hard earned money in a safe and reliable property – Flats investment. Zirakpur is a hard to acquire property in Chandigarh and Panchkula at affordable rates. Zirakpur, which is previously an ignored location on the border of Chandigarh is now one of the most sought after locations in Tricity and other regions.
Superior Connectivity
Easy and quick connectivity play a vital role in location's growth. Situated on the Ambala-Chandigarh expressway, Zirakpur enjoys excellent connectivity to other places like Himachal, Shimla, Manali and much more. Also, unlike others, this city has easy access to Delhi- Shimla highway. The major road network from Chandigarh to Delhi can be stated as one of the best networks. With easy accessibility and connectivity, Zirakpur is superior in terms of livability, convenience, and commute. All these things give it an extra edge over other cities.
Read more: Connectivity and affordability: The USP of Zirakpur
Close to Major Transport Links
Fortunately, Zirakpur offers a dual advantage of being a stone's throw away distance from Chandigarh International Airport and Chandigarh. So, it becomes highly convenient if you live close to these major transport links.
Home to Big shopping & Retail Outlets
Zirakpur is a place that is situated just a few minutes away from Chandigarh and honestly, it outweighs even Chandigarh if you consider the amenities associated with this place. Walmart, Big Bazaar, Best Price, Carry and Metro Cash- the four big shopping outlets located on the highway to help fulfill all your daily necessities.
Proximity to IT Hubs
Being quite close to Chandigarh IT Park and Quark City Mohali, Zirakpur is a reasonable housing option for office goers who are looking to buy flats in Zirakpur. Not even big IT companies like Wipro, IBM and Infosys have their offices in this IT Park, but many other automotive companies are perfectly recognized there. With the expansion and growth of such companies in and around Chandigarh, the demand for housing property is also on the rise.
Educational Hub
There are many engineering colleges in the Zirakpur. So, this place is a major educational hub with colleges such as SVIET, Chitkara University, SUS Tangori, etc. Thus with the increasing demand for PG's, an excellent income can be earned by renting out flats in Zirakpur.
Diverse Living Options
With the need for luxury and the upscale living at par with Chandigarh, many residential projects like Green Lotus Avenue have come up to cater to the needs of the urban population. So, these projects offer plenty of options to choose from such as 1,2,3,4 and 5 BHK flats in Zirakpur build in secured and gated communities. These flats provide excellent amenities at an affordable price that are hardly found anywhere at such price points.
Suitable for All
Zirakpur is a one-of-a-kind place that is suitable for all age groups. From senior citizens to youth and kids, this place has everything. For children, various educational and skill development institutions are available here. As far as senior citizens are concerned, they can prefer to move here to live in peace and security. While for professionals, who returns to home after a tiring day, they get a place to live where peace and happiness resides.
Huge Return on Investment
If you analyze from the investment perspective, buying a flat in Zirakpur is the best option to get lucrative returns on your investment. This satellite town of Chandigarh is already set to grow at a fast pace with the many infrastructure developments happening in the city. Moreover, a 200-meter wide six-lane ring road on Zirakpur helps fight from traffic congestion by providing an alternate route to Shimla bound traffic from Ambala. Although, you may hardly find the long traffic jams in this city. Also, at the end of July this year, municipal council has announced that Zirakpur will cut into 16 sectors. This sector-wise layout plan on the pattern of Chandigarh also employs the feature of searching online location of every house along with the pictures in state tenders. The map of each sector with the address of every house will also be available on Google so that people can use GPS to reach their destination.
Final Words
Zirakpur is an excellent investment option as it not only has flats at affordable rates but also the prices are most likely to increase in the future. Take my words that endless benefits and incentives from flats in Zirakpur are extremely alluring. It has developed as a planned and smart integrated city to a great extent. With excellent road networks, flyovers connectivity, mega housing projects, open spaces, greenery, entertainment options, educational hub, shopping outlets and most importantly the healthy environment, Zirakpur is speculated to reap you maximum benefits in coming years.

For any queries regarding connectivity, please contact us on 9569111222 or you can also drop us a mail at sales@greenlotusavenue.com